Attorney Patrick S. DeMoon III began his legal career in 1997 when he accepted an appointment as an Assistant Attorney General in the Illinois Office of the Attorney General. For the next five years, Attorney DeMoon represented the state and its elected officials as the lead attorney on a number of high profile cases, several of which were featured on television and the front pages of Chicago area newspapers. He then served for two years as the Senior Regulatory Attorney for the Chicago Stock Exchange, helping to protect the integrity of the national securities markets. In 2004 Attorney DeMoon moved to his family's farm in Wisconsin and opened his own law firm. He now practices with Godfrey, Leibsle, Blackbourn & Howarth, S.C., the oldest and largest law firm in Walworth County, Wisconsin.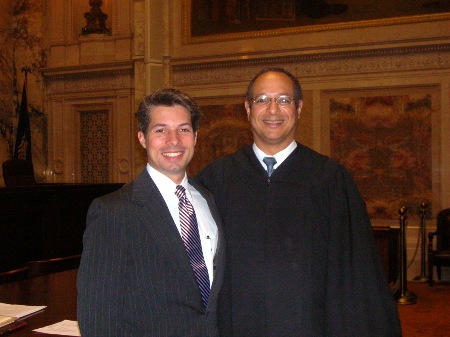 Attorney DeMoon earned his B.A. from Northwestern University and his J.D. from DePaul University's College of Law. He is licensed to practice law in the federal and state courts of both Illinois and Wisconsin. Attorney DeMoon is also an Eagle Scout who strives to give back to his community. Currently, he serves on the Boards of Directors of The Lake Geneva Theatre Company, The Kara Foundation and the Geneva National Foundation. In his spare time, he enjoys raising sheep, chickens and honeybees on his historic family farm.

Attorney DeMoon is shown in this picture, on the left, with the Honorable Louis B. Butler, Jr., former Justice of the Wisconsin Supreme Court. Call (262) 741-1535 to set up an appointment with Attorney DeMoon today.